After over 15 years of development, "Site A – Phu My Hung New City Center" has taken into shape with modern architectures in harmony with the well-built infrastructure and has set a new living standard in Ho Chi Minh City. On June 26th, 2008, The Minister of Construction Nguyen Hong Quan and HoChiMinh City People's Committee Chairman Le Hoang Quan presented Phu My Hung the Certificate to recognize Phu My Hung "A new model city" as stated in the Decision 860/QĐ-BXD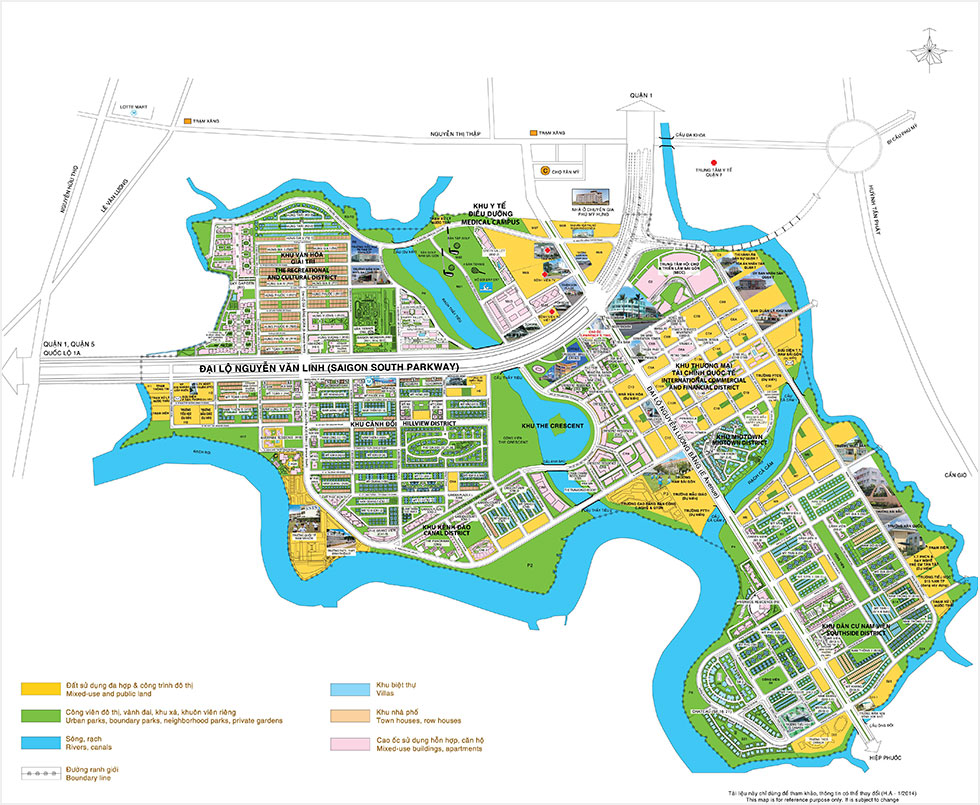 – Nguyen Van Linh Parkway is the central infrastructure project of the New City Center. The road will become an important east-west connection from National Highway 1 to District 2 and eastern provinces. This 17.8km long parkway is a 10-lane road with six fast-speed lanes and four mixed-used lanes allowing for slow auto, motorbike, and bicycle traffic (except for the 14 lanes of the section through Site A). There is also a land reserve of 18~36 meters in the center for future transit or road expansion.
– Being newly built across the marshland of Nha Be County (District 7 now), District 8 and Binh Chanh County, Nguyen Van Linh Parkway has become the artery to transport goods from HoChiMinh City to the Mekong Delta areas and opened a new opportunity for HoChiMinh City Southern expansion according to the approved plan. This route has also played an important role to propel the urbanization, economic development of the entire Southern areas and HoChiMinh City.
– Phu My Hung New City Center is located south of existing HoChiMinh City across the Doi Canal. There are several existing and new bridges to the existing city – Tan Thuan Bridge, Y-shaped Bridge, Nguyen Tri Phuong Bridge, Ong Lanh Bridge, Kenh Te Bridge (operation in 2004). There are also new routes being built like Nguyen Van Cu bridge linking Dist.5 to Dist.7, Phu My bridge connecting Dist. 7 to Dist. 2, helping to improve the traffic network from Phu My Hung to other districts, the Eastern and Southern provinces of Vietnam.
– In addition, the streets of the New City Center have variety and interest while maintaining accessibility throughout the city. The 17.5m~48m streets are organized in a grid system that provides efficient movement. Streets are typically oriented to special amenities and are landscaped to provide shade and comfort for pedestrian movement.
>>> See more project from Phu My Hung: Phu My Hung condo